Standard Round Tablecloth Sizes That Fit Your Table
When it comes to setting tables, it is crucial to find the right tablecloth size to achieve the desired aesthetic and functionality. Whether you're hosting a special occasion, managing a restaurant, or attending a grand event, a clear understanding of round tablecloth sizes is essential for a perfect setting. In this comprehensive guide, we will explore standard tablecloth sizes for round tables to ensure a flawless drape, enhancing both visual appeal and practicality. Let this be your go-to resource when preparing for intimate dinners at home or grand events in elegant venues.

Key Takeaways
There are various standard round tablecloth sizes, ideal for most round table sizes, but you can also order custom sizes if you buy from us.
It's important to measure your table accurately to get the perfect fit.
Tablecloth drop length is another key consideration when choosing the table cover size.
Don't forget to consider other factors in addition to the round table cover dimensions, including aesthetics and cover material.
Standard Sizes Of Round Tablecloths
There are a few standard sizes for round tablecloths. The general range is between 70 inches and 132 inches in diameter, aligning with common round table sizes to get a good fit.
70-inch circle tablecloth size: Ideal for smaller round tables that seat 2-4 people.
90-inch circular tablecloths: These often fit tables that seat 4-6 diners.
108-inch round table covers: A common size for tables that seat 6-8 diners.
120-132-inch tablecloths: These sizes are reserved for the largest banquet tables.
With these standard sizes, you will get a well-proportioned and elegant drape for most circular tables.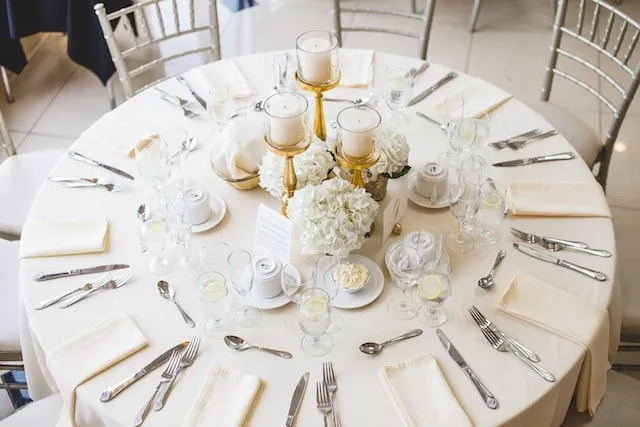 Standard Sizes Of Round Tables
It's important to determine the right tablecloth for your table size. Most round tables will be a good match to a certain standard tablecloth size, but you need accurate measurements and you need to account for the amount of drape you need.
48-inch round tables: When considering what size tablecloth for a 48" round table, look to 70" tablecloths to give yourself the required drape.
60-inch round tables: The size of tablecloth for a 60 x 60 table, or something similar, would be something in the region of 90 inches.
72-inch round tables: At this size, you are looking for a tablecloth size for an 8-person round table. The 108" tablecloth size will probably be your best fit.
Remember, it is crucial to get an accurate measurement of your table and determine the amount of overhang you want. We can create round tablecloths in custom sizes to enable you to get the perfect dimensions for your needs.
Make a statement with out custom table covers!
Are you ready to stand out at your next event?
Order now and elevate your brand with our high-quality, personalized table covers.
How To Measure Your Table For The Perfect Fit?
Learn how to measure a round table for the tablecloth size. Here are some basic tips to get it right:
Measure the diameter: Measure across the widest part of the table, from edge to edge, passing through the center. This gives you the table's width.
Add the amount of drop: Decide how much overhang you want to factor into your circle tablecloth size. The most common drop length is 6-12 inches.
Calculate the overall size: You must multiply your chosen drop length by two and add the diameter to get the overall tablecloth size.
This will tell you the size of table cover you need to look for.
Standard Round Tablecloth Size Chart
Here you can see a chart of sizes for round tablecloths. This tells you what's available and what sort of table size it will fit. You need to give yourself a strong idea of the amount of overhang you want and ensure the measurements are enough to accommodate that in addition to the diameter of your table.
When you order from us, you can get custom fit round table covers for any size of table. You can choose the color, material, and any other visual elements you want to make it your own. Our table covers are ideal for home use, venues, events, and more, so start designing yours today.
How To Use A Size Chart For Round Table Cloth
When using our size chart, you need to already have an understanding of the tablecloth size required for your round table. Everything listed covers the round tablecloth sizes we offer, but you can also request custom size tablecloths on demand. Find the size that is closest to what you need and determine the quantity you require.
Our chart tells you approximately how much your order will cost. Remember that there are cost savings to be accessed by ordering in bulk, so take advantage of this if you are buying to decorate a venue or event.
Promote your brand with our custom table covers!
Ready to make a lasting impression at your next event?
Order now and showcase your brand with our eye-catching, personalized table covers.
Make Your Custom Table Covers
Common Tablecloth Sizes And Their Fit
Let's take a look at some common round tablecloth dimensions and what sort of tables they will fit. No matter the size of your circular table, you will be able to find a round tablecloth to match. And, when you place a custom order with us, you can explore options between table throws, table runners, and tablecloths to determine which will work best for your needs. Let's look at some options for small, medium, and large circular tables.
For Small Tables
Smaller round tables require smaller tablecloth sizes. Here are a few examples:
36-inch Round Table: The right size tablecloth for a 36-inch round table would be approximately 48 inches, or 4 feet, to get the classic 6-inch drop. You could go bigger if you want a longer overhang.
40-inch Round Table: We would recommend a tablecloth size of 52-64 inches for a 40-inch round table, depending on the amount of drop you want.
42-inch Round Table: Slightly larger than the previous example, a 42-inch round table would be the right size for a 54-66-inch round tablecloth, depending on your preferences.
We can accommodate all these sizes and more to help you get the right solution for your needs. And it is easy to fold our round tablecloths to be able to store them when not in use.
For Medium Tables
With medium-sized tables, the same rules apply for overhang length, so you can calculate your circle tablecloth sizes based on the table measurements.
48-inch Round Table: The choice of how big of a tablecloth to get for a 48" round table depends primarily on your preferred drop length. Ideally, you will get a cover that is between 60 and 72 inches in diameter.
54-inch Round Table: To achieve a 6-12 inch overhang for your 54-inch round table, cover size should be between 66 and 78 inches.
60-inch Round Table: A 60-inch, or 5-foot, table should have a table cover that ranges from 72-84 inches in diameter.
Remember that you can go longer if you want a more extensive drape from your table covers, but a tablecloth should never have less than a 6-inch overhang.
For Large Tables
Larger round tables seat many people and are often reserved for large events like weddings. The same formula applies for calculating tablecloth size.
6-foot Round Table: A 6-foot round table requires a round tablecloth size of at least 84 inches, but preferably more to get a longer overhang. It depends on your aesthetic needs.
72-inch Round Table: A 72-inch round table is, in fact, a 6-foot round table, so again you are looking at round tablecloth dimensions of 84-96 inches.
8-person Round Table: An 8 person round table could measure 72-inches or more, so remember to add 12-24+ inches onto that diameter for the drape of your table.
Consider your event and the aesthetic needs when choosing a drop length for your tablecloths. We sell a range of styles and fits of table covers and encourage you to look into the best tablecloths for events of different types.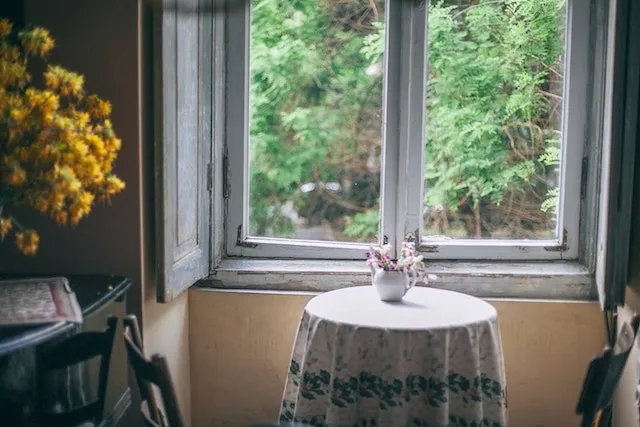 How Long Should A Circular Table Linen Be?
Your circular table linen must be the correct length to cover the entire diameter of your table while offering an appropriate overhang. You should decide on the desired drop length, considering that a shorter drop is often more practical, while a longer one exudes formality and elegance.
Typical tablecloth drop lengths fall between 6 and 12 inches. To achieve this overhang on all sides, simply double your chosen measurement. So, if you aim for a generous overhang, the round table cover size should equal the table's diameter plus an additional 24 inches.
Attract attention and make a statement at your next event with our high-quality, personalized table covers.
Showcase your brand with our custom table covers!
How Wide Should A Round Table Cover Be?
If your table is a true circle, it will have the same diameter all around. As such, just as with a square table, the width measurement for your round table cover should be the same as the length one. You should follow the same rules, guided by the table's diameter and the desired overhang. If your table is not a perfect circle, you may want to look into information for oval tablecloths.
What Size Tablecloth Fits A 5-Ft Round Table?
A 5-foot round table is a 60-inch one. If you have a 60-inch round table, what size tablecloth do you need? The answer is one that covers that diameter comfortably and includes an allowance for your desired overhang. If this is a table at home, a 6-12 inch overhang should be more than sufficient, meaning a round tablecloth size of 72-84 inches. Our high-quality tablecloths will offer excellent protection for your surface.
If, however, you want a longer drop to display a custom logo or create a more elegant visual effect, you could opt for a longer drop. Order a larger size as required to get the optimal result.
What Size Is A 108 Round Tablecloth?
A 108 round tablecloth is suitable for a table no larger than 96 inches in diameter. This would facilitate a drop length of 6 inches, which may be smaller than what some people want. In any case, these large tablecloth sizes are optimal for particularly substantial round tables.
What Does A 90-Inch Round Tablecloth Fit?
A 90-inch round tablecloth would fit a maximum round table size of 78 inches. At this table size, you would have an overhang of 6 inches all round. If you want a longer drape from this round tablecloth size, fit it onto a smaller table and it will deliver.
Should You Also Measure The Round Tablecloth Drop Length?
When it comes to calculating the drop length for your custom table linens, you don't necessarily need to measure that length. If you already know the amount of overhang you want from your table covers, you can simply add that length, multiplied by 2, to the diameter of your table when choosing a tablecloth measurement.
Having said that, some people find it helpful to use a tape measure to visualize what a certain overhang length would look like. This can enable you to feel more confident in your decision about your chosen drape, so do measure the round table drop length if you feel it will be helpful.
Make a lasting impression with our high-quality, eye-catching designs
Enhance your brand's presence at your next event with our stunning, personalized table covers
Order now and elevate your brand in style.
Make Your Custom Table Covers
Should A Circular Table Cover Hang Off The Table?
Some types of circular table covers should definitely hang off the table. A tablecloth is designed to have overhang all the way around as it helps keep the cover in the optimal position and also create the right aesthetic for your table setting. However, a table runner doesn't necessarily need to hang off the table; it depends on the design and your desired aesthetic.
Pay attention to your needs and preferences. When you design your table cover with us, you can create it to look and function the way you need it to.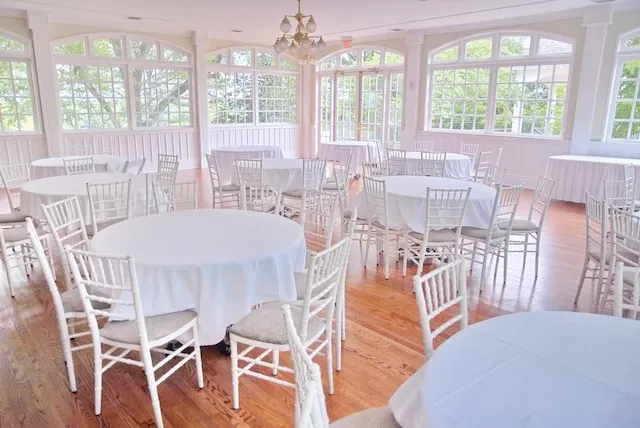 Factors To Consider When Buying A Round Tablecloth
In addition to your round tablecloth size, there are various other things to think about when buying a round tablecloth. These are important considerations for any tablecloth shape, so keep them in mind as you create your custom design:
The occasion: Make sure the table cover type is appropriate for the occasion. Consider aesthetic needs and research typical table cover types for your needs.
Material: Think about where your venue is and what types of things you need to protect your tables from. The material makes a big difference to these things, as well as the options for your design, so consider it carefully.
Aesthetics: The appearance of your custom table cover makes a big difference to its role in your table setting. You need to match your color and design choices to the space and make sure the fit is right for your needs.
Frequently Asked Questions About Round Tablecloth Sizes
How To Select The Right Round Tablecloth Size For Your Table
The fundamental requirement is to accurately measure your round table. The diameter is the basis for your calculations, then you add double the desired drop length to get your overall size.
What Is The Standard Size Of A Round Tablecloth?
There are various standard sizes, including 78, 90, 108, and 120 inches. These cover the vast majority of circular tables, but you can also purchase custom tablecloth sizes.
What Size Is A 108 Round Tablecloth?
A 108 round tablecloth is a large cover, and the right fit for a round table with a diameter of no more than 96 inches.