Standard Rectangle Tablecloth Sizes That Fit Your Table
When designing a table setting, you need to make the right choice of rectangle tablecloth size to get the balance right between aesthetic appearance and functionality. Whether you have a special family dinner coming up, you're managing a restaurant, or you have to set the scene for a big event, standard tablecloth sizes for rectangular tables are an important consideration. In this detailed guide, we take a deep dive into table linens, exploring all the standard sizes that are available to drape over your tables. With our help, you will enhance both practicality and visual appeal, so let's get started.

Key Takeaways
There are various standard sizes for rectangle tablecloths, designed to accommodate common table sizes.
To measure a rectangle table for a tablecloth, you must use a tape measure to get the length and width, then choose your drop length and double the measurement to add to the length and width.
Common drop lengths are 6-12 inches, so factor that into your calculations. Tablecloth overhang can be longer than this for some circumstances.
When choosing the right standard rectangle tablecloth size, you should also consider other factors like material, colors, and patterns.
Standard Sizes Of Rectangle Tablecloths
The standard tablecloth sizes are not absolutes, since all rectangular tables are a little different in size. But you will find some common tablecloth sizes for rectangular tables based on the fact that most tables are designed to accommodate a certain number of people. Common sizes include:
52 x 70 inches (130cm x 178cm): This standard tablecloth measurement will cover smaller tables that seat 4-6 people with a small overhang.
60 x 102 inches (150cm x 260cm): This moderate rectangle tablecloth size will fit tables that sit 8-10 people and offer plenty of overhang.
70 x 120 inches (178cm x 305cm): Most often used for larger banquet tables that sit 12-14 people.
At these sizes, you will get well-fitted, aesthetically-pleasing custom rectangle tablecloths to fit the vast majority of tables. Of course, you need to get accurate measurements for your specific table, and we can create table covers in custom sizes to fit tables that don't match any standard proportions.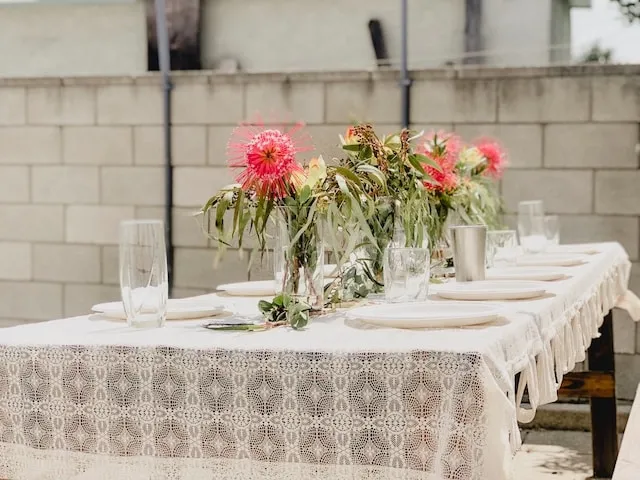 Measuring a Rectangle Tablecloth: Step-by-Step Guide
Measuring tables for tablecloths is an important, fundamental part of ensuring you get the right size tablecloths. The process is not complicated, but accuracy is key, so we recommend taking your time with it. You will need a reliable measuring tape to do it. Here's the step-by-step process:
Measure the length: Secure one end of your measuring tape at the edge of the table, and pill it up to measure the longer length of the table. Make sure you pull the measuring tape tight and parallel with the edge of the table. Record the measurement.
Measure the width: Now, you need to measure the shorter length of the table; this is its width. Repeat the same process as above, this time taking a measurement for the shorter dimension of the rectangular table.
Check your measurements: It is advisable to take each measurement twice in order to check for accuracy.
Factor in drop: Standard tablecloth drop length is usually 6-12 inches (15-30cm). You must double your chosen drop length and add it to both the length and width measurements to ensure you have an even drape all around the table.
With your accurate measurements to hand, you are ready to explore common tablecloth sizes to find a table cover that's right for you. Alternatively, you can order one in the exact proportions you need with our custom table covers service.
Make a statement with out custom table covers!
Are you ready to stand out at your next event?
Order now and elevate your brand with our high-quality, personalized table covers.
Standard Rectangle Tablecloth Size Chart
Here you have a standard rectangle tablecloth size chart that displays the common sizes we offer tablecloths in. You can also order custom sizes if none of these are the right fit. We want you to be able to design your custom print-on-demand tablecloth to be perfect for your table, including the design, material, fit, drop, and, of course, the size. Look through this chart and get in touch if you have any questions.
How To Use A Size Chart For Rectangle Table Cloth
To use this size chart, look at the list of dimensions in the left-hand column. With your rectangle table's measurements to hand, you should be able to find the standard tablecloth sizes that are closest to your needs. Use this to examine the chart and see how much your tablecloth will cost you, and what savings you could get by ordering in bulk.
How Long Should A Rectangular Table Linen Be?
The length component of your chosen standard tablecloth size should be proportionate to your table. When you take the longer measurement of the table, that comprises the length of your table cover, but you must also factor in drop. As mentioned before, common drop lengths are in the 6-12 inch range. But many people choose a longer length than this in order to achieve the right aesthetic, and that can be accommodated.
Determine the rectangular tablecloth length by taking the length of your table, then adding double the amount of overhang you want so that you get an equal drape at both ends. This will determine the length of your standard rectangular tablecloth size.
Promote your brand with our custom table covers!
Ready to make a lasting impression at your next event?
Order now and showcase your brand with our eye-catching, personalized table covers.
Make Your Custom Table Covers
How Wide Should A Rectangle Table Cover Be?
The width of your oblong table cover is determined by following the same principle as for the length. You simply take your table's width then double the desired overhang and add it to the number for the width measurement for your standard rectangle tablecloth size.
We offer a wide range of tablecloth sizes in high-quality polyester that is both low-maintenance and durable. You can customize the design to fit your occasion or space and we will bring your design to life in impressive detail. You can choose from any of our standard sizes or enter your custom dimensions to get a table cover that is perfect for your table, so start designing today.
What Size Tablecloth Fits A 6-Foot Rectangle Table?
A 6-foot rectangular table has a length of 72 inches. So you will need a standard tablecloth size that has a length measurement of at least 84 inches to provide an overhang of 6 inches. Longer may be better, however, so factor in the amount of overhang you need for your standard size tablecloth.
You will also need to determine the width of your table to be able to identify what tablecloth size you need. In a rectangle, the length and the width are not equal, so you need to know both in order to zero in on the optimal tablecloth size. But the amount of overhang you want will be the same on all sides, so factor that into your calculations.
What Size Tablecloth Fits An 8-Foot Rectangle Table?
If you have an 8-foot rectangle table, its length is substantial at 96 inches or over 240cm. That is a long table, and you will need an even longer dining room table cloth size that measures at least 108 inches (275cm) in length. When ordering table covers of this sort of size, it's important to factor in how to wash tablecloths and ensure you have the means to do so.
Again, you also need to determine the width of your table in order to identify the actual standard tablecloth dimensions required to cover your table and provide the required drop. So when questioning the type of tablecloth needed to fit an 8-foot rectangle table, don't neglect to also list the width of the table.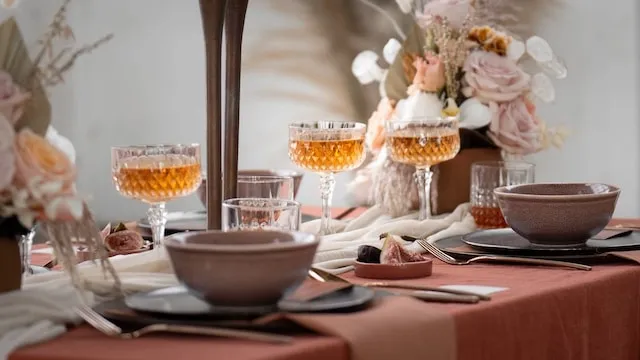 Should You Also Measure The Rectangle Tablecloth Drop Length?
Drop length is an essential component of measuring tables to determine the common tablecloth sizes that will fit. Drop helps ensure your tablecloth fully covers the tabletop and that it can't be moved to expose part of the surface. It is also a major factor in determining the aesthetic of the table setting. A longer overhang around the table's edges looks more formal and elegant, or it can enable you to display a personalized design on a custom tablecloth.
That being said, you don't necessarily have to measure tablecloth drop length. The standard is to go for 6-12 inches, so you can just add the required amount onto your length and width. If, however, you want a floor-length drop then you will need to measure the height of your tables. The key is to make sure you include the drop length, multiplied by two, in both the length and width measurements for your tablecloth size when you order it. This will ensure you have an equal drop length on all sides of the table.
Attract attention and make a statement at your next event with our high-quality, personalized table covers.
Showcase your brand with our custom table covers!
Should A Rectangular Table Cover Hang Off The Table?
A rectangular tablecloth should be the correct size to hang off the table. This is the correct way for a tablecloth to be fitted to a table. But not all table covers are governed by this same rule. For example, a table runner can be sized to only cover up to the edges of a rectangle table, or it can hang over the sides. There is a little more flexibility in choosing the look when it comes to table runners.
You need to think carefully about what type of table covers you want and how you want them to look. Though all tablecloths should hang off the table, the amount of overhang is up to you. Generally speaking, the minimum drop length is 6 inches, but it can hang from that amount to any other length, even reaching the floor in some table settings.
Consider the venue and the aesthetic you wish to achieve, as well as any design features on your tablecloth you need to display. These considerations can help define the amount of overhang you need, which will affect the rectangle tablecloth sizes you should be considering.
Factors To Consider When Buying A Rectangle Tablecloth
When you are considering the standard size for rectangle tablecloths that will fit your tables, bear in mind that there are other key factors to think about. Here are some important considerations that you must take into account with your decision-making:
The occasion: Consider the event or other purpose your tablecloth is for. Yes, its practical role is to protect your tables, but it also helps determine the decor at any setting, so remember that longer drops work better for formal gatherings whilst casual occasions can be more flexible.
Materials: Choose a fabric that matches the needs and formality of the event. We supply polyester table covers that are robust and durable but also offer fantastic flexibility for designs and meet the formality needs of a wide range of occasions.
Aesthetic choices: Think about the color, pattern, and other design features of your tablecloth. They need to be appropriate for the occasions and you must consider the role they play in contributing to the overall ambiance in your space.
Maintenance: Caring for your table covers is an important consideration, no matter what standard size rectangle tablecloth you get. Our table covers are low maintenance, but you should always check the care label and follow the guidance to get maximum longevity from your products.
Matching the room décor: Tablecloths are a component of the overall decorations in a room or other space. Your design should be a good match to the surroundings for a cohesive look in an establishment or at an event. Consider tailoring your design for a uniform look.
Take all of these factors into account when designing or selecting your tablecloths. This will help ensure you get exactly what you need.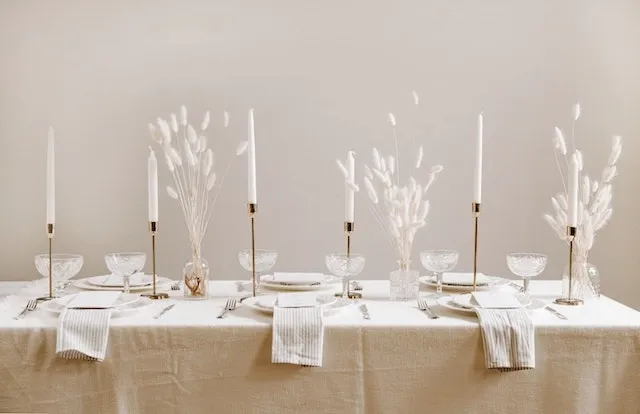 Make a lasting impression with our high-quality, eye-catching designs
Enhance your brand's presence at your next event with our stunning, personalized table covers
Order now and elevate your brand in style.
Make Your Custom Table Covers
Frequently Asked Questions About Rectangle Tablecloth Sizes
How To Select The Right Rectangle Tablecloth Size For Your Table
You must measure your rectangle table then identify the drop length you want for your table setting. These measurements will help you determine the ideal standard tablecloth sizes in inches.
What Is The Standard Size Of A Rectangle Tablecloth?
There are various standard rectangle tablecloth sizes designed to accommodate common table sizes. Common sizes include 52" x 70", 60" x 102", and 70" x 120".
What Size Is An 8-Foot Rectangle Tablecloth?
An 8-foot rectangle tablecloth has a length of 96 inches. To cover an 8-foot table, you would need a cloth that is at least 12 inches longer, and the width must be determined as well.